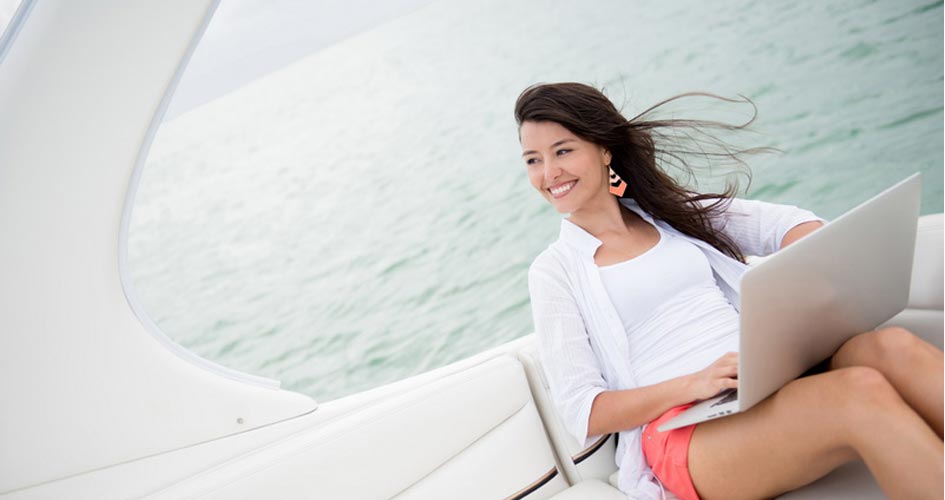 Rent a yacht in Dubai, and take the work out of the confines of the four walls of the office. Conference rooms at work can get very restricting and boring over time. Go ahead and take your clients, reward your employees, or hold important meetings on board a yacht charter to add a twist to your office work.
Away from stuffy cubicles or cramped meeting rooms, the comforts of a luxury yacht provides a relaxing atmosphere that will make working a pleasant experience. Zero in on that long overdue monthly report with the soothing sound of the ocean waves in your ears.
Exchange ideas and resolve issues with your team as freely as the fresh sea breeze blowing all around you. Close that deal with your valued client as you charm them with a fantastic view of the Burj Al Arab from the waters. Your options are endless.
World-class amenities and superb crew service on board will make your company parties, trade seminars, product launching, and team building activities more interesting. Choose from the wide variety of yachts ranging from the 33-foot fishing boats that can carry up to 8 guests to 85-foot royal yachts. Spacious cabins, sundeck, sitting area or dining area provide legroom for you and your guests to lounge about.
You can also talk shop while on a sports fishing adventure. Complimentary fishing gear and bait are readily available on board, while modern fish-sensing SONAR and navigation system ensures you get a good catch. Captains and crew members who are experts at fishing in Dubai will gladly share fishing stories as well as tips to help you make the most out of this sensational hobby.
On top of this, yacht charter companies can also arrange for you a sumptuous 5-star gourmet buffet, silver service, decorations, and other additional services on board. Yacht charters in Dubai can be easily tailor-fitted to your needs with the right planning and coordination.
For the best out-of-office work experience, hop on a splendid yacht rental Dubai, and reap the many benefits of an extraordinary cruise across the sparkling waters.