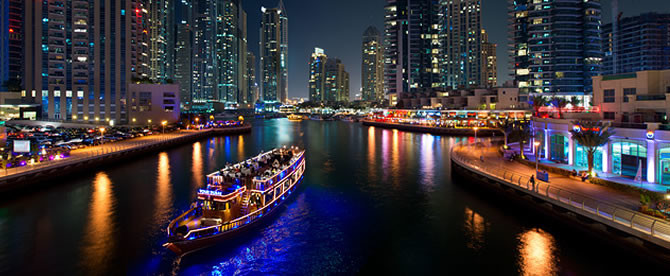 Towering skyscrapers and man-made islands have amazed us to no end on our trip to Dubai. It was truly something that you would want to capture on a photograph to preserve for as long as possible. However, we were hoping to find something that we can also cherish in our hearts.
One that doesn't need a camera to capture. One that will stay with us no matter where we go. We were looking for something timeless and more meaningful.
A friend suggested us to go for a romantic Dhow cruise dinner in Dubai. A Dhow is a traditional Arabian boat made of wood. Plying the busy waters of Dubai Creek in the old days, the Dhow was primarily used for trading, fishing, and pearl diving in Dubai.
Nowadays, the wooden boats have been refurbished to become a recreational masterpiece for tourists and residents. Under the hood, it is now fitted with modern engines and the latest navigational equipment while still maintaining its old-fashioned charm.
We found ourselves one cool evening by the docks at the Bur Dubai side of Dubai Creek near the equally historic Al Fahidi district. It was fascinating to see all these wooden Dhows lining up the pier adorned with dazzling decorations and colorful lights.
Traditional Arabic coffee and sweet dates welcomed us as we climbed aboard the Dhow. There was an air-conditioned lower deck and an al fresco upper deck. Since we preferred the open air, we chose to dine alfresco.
As soon as we settled ourselves on a table, refreshments of cold fruit juices and water were served. More passengers came aboard and at exactly 8:30 PM, the gates closed and the Dhow softly revved up its engines and left the harbor.
It was a slow and gentle cruise down Dubai Creek. On the Bur Dubai side, we were treated to nostalgic views of age-old architectures at Al Bastakiya and Fahidi Fort. On the Deira side were tall, glittering buildings. It was a stunning contrast between Old Dubai and New Dubai. I would have wanted to do more sightseeing and enjoying the wind in my hair, but then the sumptuous buffet dinner was served.
A delectable mix of Arabian, Indian and Continental dishes were laid out for everyone to enjoy on board our luxury Dhow cruise in Dubai freely. Soon after, a Tanoura Dance performer came and entertained the audience. All those spinning lights was dizzying and mesmerizing at the same time. 
Surprisingly, Tanoura is an Egyptian folk dance performed by men during Sufi festivals. They wear long colorful skirts with lights. For an additional fee, you can also get a henna painting done on your hand as well as some souvenir pictures taken by a professional photographer on board.
For two hours, we truly enjoyed this graceful and relaxing Dhow dinner cruise. Dining on a floating restaurant was indeed a complete change of pace from all the usual sightseeing experiences we had. It was a cruise that we will surely remember for all time.