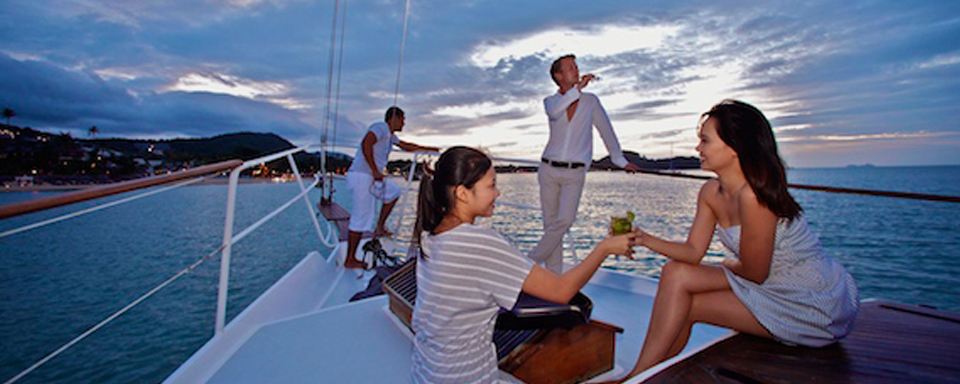 My two lovely daughters wanted to do something special for us. They told me and their father that they wanted to say "thank you" for all the years we have taken cared of them. Being parents, we don't ask for anything in return. Still they insisted, and so we relented and said yes. As we were in Dubai, they invited us for a staycation. One of the activities was an exclusive sunset cruise Dubai. I admit I was rather excited while my husband was trying hard to hide his emotions.
On the day, the yacht company picked us up half an hour before the scheduled cruise departure. They told us that they will also be dropping us back after, which was very convenient since we were not familiar with the place.
We got to the docks at the Dubai Marina in no time. It was such a lovely place with so many white luxurious yachts all neatly lined up in the waters amidst the tall and shiny buildings. The captain and crew greeted us with warm smiles as we climbed aboard.
After seeing the cozy interiors, the yacht started to leave the docks. They told us we will be cruising around the Palm Jumeirah Island and passing by iconic landmarks of Dubai. It was our first time in Dubai, and we were thrilled to see everything.
We decided to stay at the sundeck so we can have unobstructed views of the scenery around us. The famous Burj Al Arab is such a beauty when you gaze at it from the sea. Our captain took the yacht closer and stopped for a while so we can take pictures. The crew served cold refreshments which were indeed refreshing.
During sunset, we were reduced to silent awe as we watched the sun start to cast its beautiful colors all around us. Oranges, purples, pinks – it was such a sight to behold! I don't know for how long we sat there beside each other, holding hands, and just enjoying the breathtaking scene before us. It was a heavenly moment.
All too soon, the night covered us as we sail back to Dubai Marina which is now all lit in bright glittering lights. We were simply awestruck and thankful for this truly wonderful gift from our daughters. We were not asking for anything in return, but they gave us so much back with a beautiful sunset cruise in Dubai. It made being a parent truly worth it.