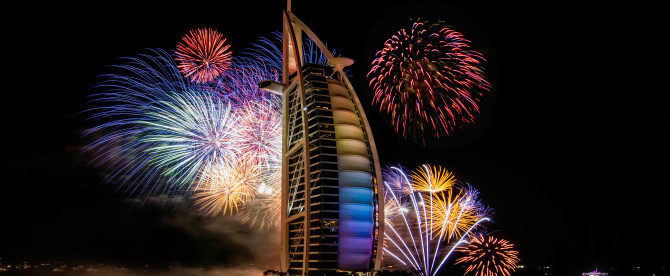 For a city that does not have anything half-hearted, expect the New Year celebration in Dubai to be bigger and grander than the previous years. The record-breaking New Year fireworks in Dubai are sure to delight, not just the residents but also all over the world as it lights up its iconic structures in the largest and longest fireworks show at the turn of the year.
There is no better way to be part of the city-wide celebrations than having a party right where the magic happens – on a yacht.
Hire a luxury yacht in Dubai, and feel as if you are in the midst of the most opulent New Year celebration in the world. A yacht is simply the best venue for you and your loved ones to welcome the New Year. Partying on a yacht is like partying at home or at a hotel with the added luxuries of the sea. You have comfortable bedrooms to rest and relax.
You have a state-of-the-art home theater and music system to watch holiday movies or sing your hearts out. And there is an open sundeck where you can enjoy the fresh evening sea breeze while waiting for the new beginning.
For a full holiday vibe, you can also decorate your yacht with trimmings to make the atmosphere even more festive. You can add blinking lights as well as colorful balloons and bunting all around and inside the yacht. Of course, a party is not a party without a sumptuous banquet.
You can have gourmet buffet catered on board, or you and your guests can bring your dishes to share with everyone. As the clock ticks 12, cut a designer cake and share it with your favorite people.
There will be no limits for the party when you are on a yacht. On this secluded setting, celebrate your heart out. And the best thing about having your party on a yacht this New Year is the front row seat which gives you the sight of the fantastic New Year fireworks in Dubai which light up the skies at the stroke of midnight.
Luxury yacht rental in Dubai lets you see the awe-inspiring lights and sound display from Burj Al Arab, Atlantis the Palm, The Palm Islands, and The World Islands.
So what are you waiting for? Book a yacht for your New Year yacht now. There is nothing quite like it!