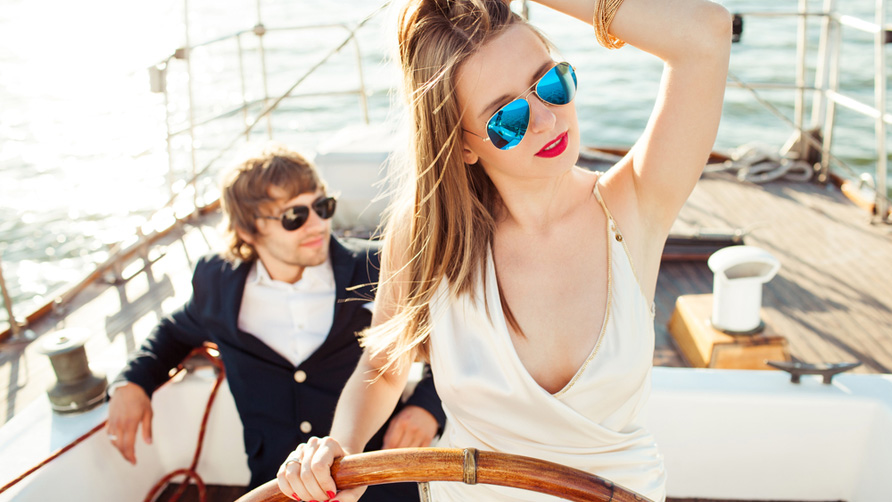 Dinners in hotels and restaurants are typical during Valentine's season. With tempting deals and offers of sumptuous buffet spreads of varying cuisines, couples cannot resist dining on such splendid delights together as a way of celebrating this wonderful day of hearts.
But there is an even better and a more romantic alternative to dining in hotels and restaurants on Valentine's Day. Do it in the middle of the sea — on a yacht or a Dhow. The calm and gentle waters of Dubai together with the relaxing sea breeze and the open sky will lend a refreshing and romantic ambiance to your Valentine date.
Share love in the yacht
Rent a luxury yacht in Dubai just for you and your loved one and enjoy romance in the privacy of the yacht and the open seas. When you are in a yacht, the primary advantage is privacy. No one will interfere in your beautiful little world. Besides, cruising from the spectacular Dubai Marina and around the incredible Palm Jumeirah Island is a marvelous sightseeing experience.
Take a sunset cruise in Dubai, and you can feel the love as the sun sets in the horizon and paints breathtaking colors of orange and gold on the sea and the sky. Arrange for a special dinner for two as well as decorations of red on a sleek white yacht, and you have your own private and personal love boat.
Relish candlelight dinner on a Dhow
Reserve a table on a premium Dhow dinner cruise and enjoy an evening of classic romance in Dubai. The traditional Arabian Dhow adds a touch of nostalgia into your Valentine date as you dine and cruise down historic Dubai Creek or vibrant Dubai Marina.
The wooden interiors of a Dhow, the sumptuous dinner buffet of Arabian, Asian, and Continental cuisine, and the enjoyable entertainment of Tanoura dance or magic show will make it a night to cherish for both of you. It's a floating restaurant that is unlike any other.
Embrace the love and indulge in the mesmerizing charm of Dubai by having your Valentine dinner on a yacht or a Dhow. Make this Valentine's Day unique for you and your beloved. When you are making plans for the special day, gift some memorable moments to your significant other amid the sea.