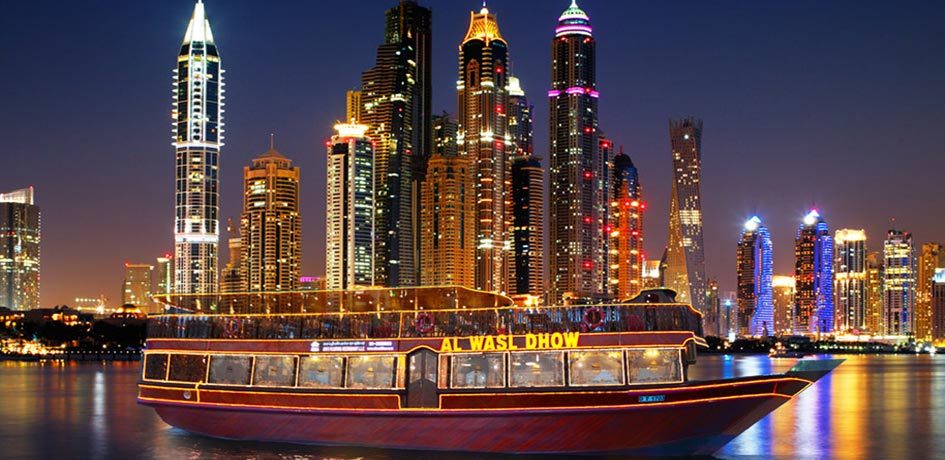 If you wish for a getaway after a long work week, look no further than a dinner cruise. A Dhow cruise in Dubai is the best way to spend the evening relaxing and unwinding from the stress. Spend quality time with your family or beloved. Your amazing dinner cruise will start with a warm welcome onto the amazing traditional wooden Dhow.
A professional crew will meet you and offer a light beverage like tea, coffee, or a soft drink. Next, you can expect to enjoy a delicious meal served buffet style filled with Continental, Asian, and Arabic cuisine. After enjoying the delectable delights, enjoy soothing music and a wonderful dance show. A traditional Egyptian folk dance called Tanoura is the main highlight of a Dhow.
The crew will show your table from where you can see the exceptional views in the city. However, ensure that you don't sit at your seat through the journey. Get up, move around, and take a walk to the upper deck where you will experience something which you can't get anywhere else.
While cruising along the water, you'll hear the relaxing sound of the waves. You'll also feel the breeze on your face as you breathe in the fresh air. Take a look at the view that can only be seen from the waters.
The city lights will shine under the moonlight. There is nothing like the view of the unique architecture lighting up the dark sky. You should choose between two options while going for a Dhow cruise in Dubai. Witness the charm of modern architecture and luxury at Marina or step back in time by cruising across Creek. The choice is all yours and the two destinations are equally fascinating.
Spending time with your family and friends is amazing aboard this dinner cruise in Dubai. This is a trip that cannot be experienced anywhere else. You will be amazed at how refreshed you and your family are after spending time aboard a Dhow cruise. There is no reason to wait a minute longer. Book your evening out with family and friends right away.
Celebrate the weekend with a friend, loved one, or your entire family, and book a dinner cruise to create unforgettable memories. If you feel like you don't get enough time with your kids or even with your aging parents, book a Dhow cruise in Dubai and make up for the lost time.