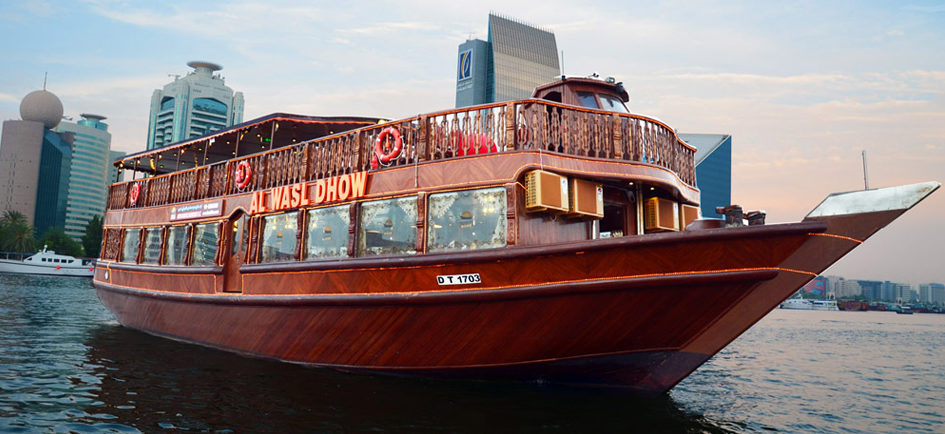 Usually, we celebrate our most important parties like birthdays, anniversaries, or corporate events in spacious hotel ballrooms or posh restaurants. Do you know that they can get rather dull and old-fashioned over time?
Your loved ones, employees, or clients will want a new twist to the usual party. If you are in the charming Arabian paradise of Dubai, the perfect alternative is just within your reach.
You can sprinkle a dash of energy and uniqueness to your events by having it on board a traditional Arabian Dhow instead. These wooden boats reflect the quaint beauty of Arabia of old days and are guaranteed to offer a warm yet sophisticated touch to your celebrations. Take a splendid Dhow Cruise, and your parties will never be the same again.
On board the majestic Rustar Dhow cruise, your guests will have a grand banquet that rivals even those served at opulent hotels and expensive restaurants in the city. From the Dhow ambiance to the gourmet food to the remarkable entertainment offerings, this one-of-a-kind Dhow cruise promises an experience that is both enjoyable and unforgettable.
Upon stepping in, guests are greeted by the classic and timeless elegance that permeates all around the Dhow. The gleaming russet-colored teak wood that makes up the boat's walls and floors lend a gentle and cozy ambiance – a far departure from the concrete stiffness of hotels and restaurants.
Fine handcrafted decors, a rock waterfall, and stunning staircases complete the charming rustic aura of the place. Hot Arabic coffee and dates cordially welcome guests and a sumptuous banquet of Arabic and Continental cuisine is expertly catered by no less than a five-star Hotel. Their salad bar is teeming with Hummus, Babaghanouj, Fattoush, Chicken Tikka Salad, Greek Salad, and even Cajun Roasted Prawns.
The main course is simply fantastic with mouthwatering dishes of Hammour in bell pepper and tomato, Traditional Meat Lasagna, Braised Lamb with garlic and lemon. For dessert lovers, a wide selection of fruits, cakes, and sweets are available. It is truly a royal spread to behold!
As the resplendent Dhow sails down the Dubai Creek, entertainment programs start to unfold. Egyptian dance Tanoura and puppet shows are guaranteed to delight every guest in this two-hour Rustar Dhow cruise.
Docked along the equally picturesque Dubai Creek, the Rustar Dhow can accommodate up to 400 passengers in all its three-level glory. Measuring more than 50 meters in length, it is one of the world's largest floating restaurants, so there is definitely plenty of room for everyone.
You can throw a groovy party amidst the cool evening sea breeze on the open-air upper deck, or relish a romantic dinner with your loved one at the air-conditioned dining hall on the middle deck. Upon request, the lower deck can be converted into a dance floor or an exclusive party area.
Companies can also reserve the lower deck for corporate meetings or seminars. It's another twist to the usual office practice that will make your employees and clients happy.
Yes, the Rustar Dhow is indeed a versatile and extraordinary party place. There is simply nothing quite like it!