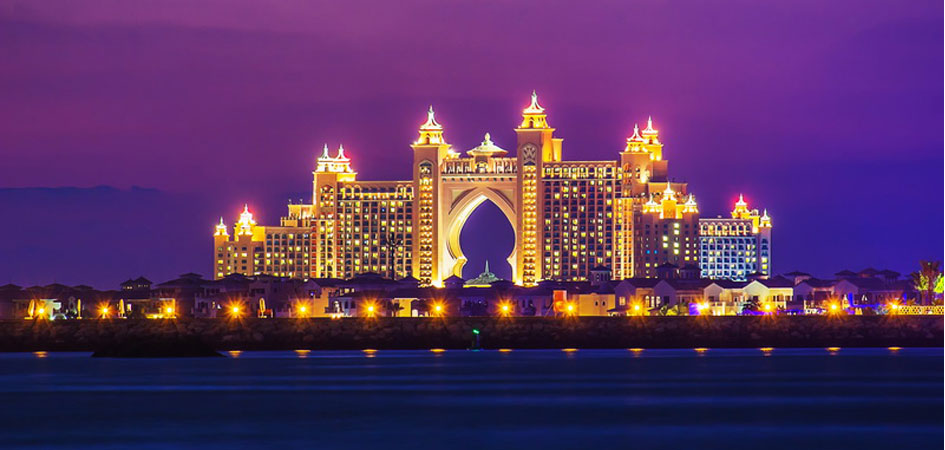 Life is incomplete without celebration. We celebrate the significant milestones in our life like betrothal, marriage, birthday and wedding anniversary. Getting a new job also needs throwing a party for the dear ones. Sometimes, we don't even need a specific reason to party. Parties are great as celebrations fill delight in life and gift some memorable moments.
The biggest task of arranging a party is deciding the venue. When you are searching for party halls in Dubai, which once will you choose? Classy restaurants, adventure parks, and splendid outdoor settings become party spots in this city. See the list of the cool party venues in Dubai and pick one for the next celebration.
Burj Al Arab
Burj Al Arab is the epitome of elegance and luxury. The sail-shaped iconic landmark of Dubai stands at an artificial island and is a synonym for luxury. The royal experience and premium dining has given it the coveted title of 'the world's only seven-star hotel'. There are five grand venues in Burj Al Arab to make your party out of this world.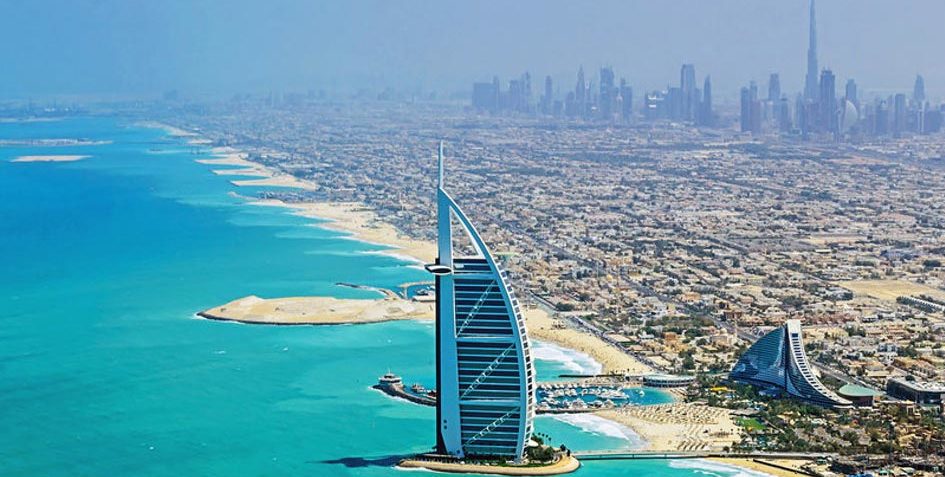 The Al Falak Ballroom is a royal setting that resembles the 18th-century Viennese opera house. Tameen Majilis is an ideal spot for your informal parties. It can be used as a breakout room or VIP speaker area for those who have hosted the party in Ballroom as both are adjacent to each other.
Scape Restaurant is an exceptional place that offers Californian fusion cuisine and varied beverages. Guests have two excellent options here— alfresco dining and indoor dining. It can accommodate a maximum of 180 guests for lunch, dinner, and cocktail events.
Featuring extravagant interiors, Suha Suha Boardroom is the best pick for corporate events. It has an in-built PA, wireless internet, translation booths, and high-end presentation and video conferencing equipment. Gold on 27 is a recent addition to the outstanding areas in Burj Al Arab.
The glossy interiors are adorned with gold, thereby completing the regal look. Seats are available for 80 guests, and the cocktail setup can have up to 150 guests.
Jumeirah Beach Hotel
Jumeirah Beach Hotel stands right next to Burj Al Arab and steals attention with its wave-like design. It gives exquisite views of the Burj Al Arab and Arabian Gulf. The guests are treated to premium rooms with sea views, sea-front dining, and private beach access. The hotel has some of the eight finest options to have a rocking party.
The first one is the Meyana Auditorium, which has all facilities for a corporate meeting and is apt for business functions. It can accommodate up to 414 guests. Then, eight Marasi Meeting rooms can be used for individual requirements. Its total capacity is 150 guests.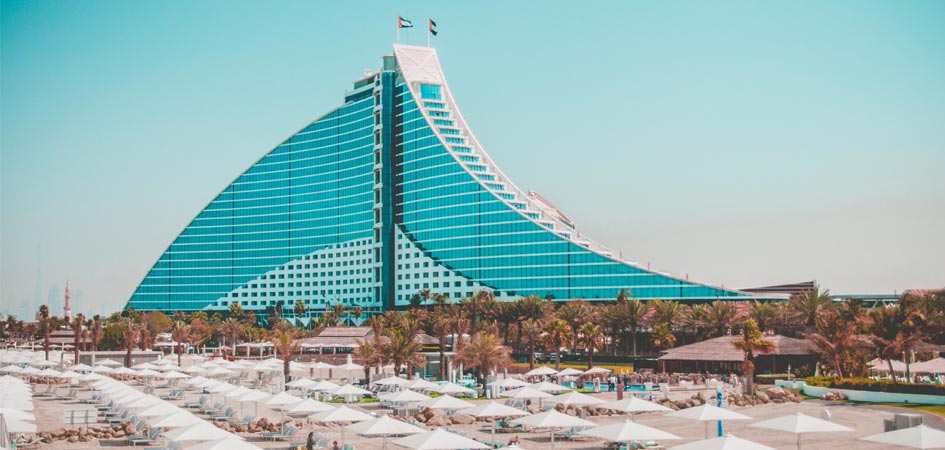 Beachcomber Garden is the spot for having an informal party or drink receptions with up to 120 guests. Sunset Garden offers panoramic views of the Burj Al Arab and can house 150 guests. Safinah Ballroom is a stylish conference room that can accommodate 1500 guests. Shams & Qamar Lobby are two spacious lobbies that can be booked for a cocktail reception or private gathering of up to 150 guests.
Jumeirah Beach Hotel has a number of outdoor venues called Events Arena at its beachside which can accommodate up to 2500 guests. Sundeck Level 2 is suitable for receptions or private weddings with 150 guests. Boardrooms which can accommodate up to 16 guests, ensure a premium experience for the guests with food served by award-winning chefs.
Atlantis, The Palm
Atlantis, The Palm has become the face of Dubai with its matchless luxury, fine dining, and endless entertainment options. It is a world-renowned structure identified with the name of Dubai. Being at the incredible Palm Jumeirah, it is the go-to destination for a royal holiday.
Atlantis, The Palm has three theme parks under one roof— Dolphin Bay, Aquaventure and Lost Chambers Aquarium. Given all these, it is explicit that the place has some of the most opulent spots for a party. You can host the event at unique venues like the Lost Chambers Aquarium or Royal Beach. The indoor choices include elegant ballrooms, boardrooms, and meeting rooms.
The business meetings can be held at the meeting rooms with state-of-the-art facilities. Choose from the stunning alfresco venues which include private beaches, poolside terraces, and tents. They offer a plethora of options which enable you to choose according to every size and budget.
Luxury yacht
The yacht is one of the coolest venues to celebrate a party in Dubai. When all of the expensive places provide the same views throughout your function, this floating venue will give ever-changing vistas. On the top, the fun of cruising will make the party more cheery and memorable.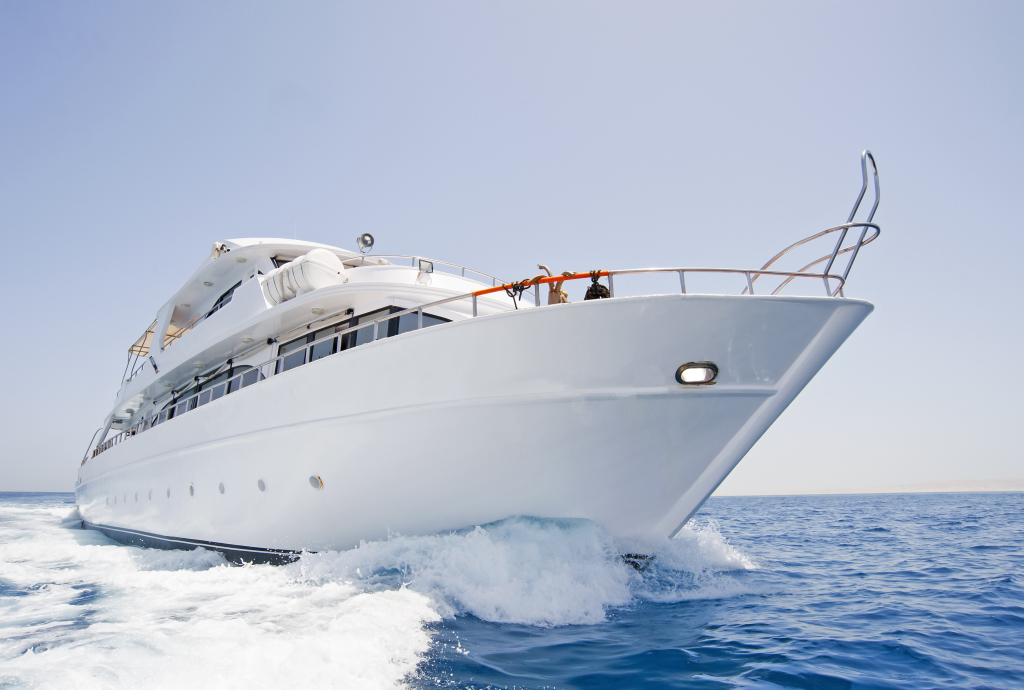 Invite your guests to a sleek white yacht adorned with lights and red carpet. The crew can make it look stunning to make an exceptional party. The best part of it is that you can decide the cruising destination, the activities, and duration. When you are away from the land and amid just your dear ones, nothing can stop you from celebrating your heart out.
The mega yachts have spacious dancing floors to spice up the party. Hire a DJ to groove for some exhilarating tunes.
The Address Dubai Mall
The Address Hotel is situated near the two iconic structures in Dubai — Dubai Mall and Burj Khalifa. It boasts elegant and stylish accommodation with rooms overlooking Burj Khalifa and Dubai skyline. The hotel has everything to make you feel at home and gives easy access to all the wonders in Downtown Dubai. When you are at Address Mall, there are four wonderful destinations for the party.
The Diamond Ballroom can accommodate up to 600 guests and has three different spaces. The stylish interiors, audio-visual, videoconferencing and IT equipment, and tailor-made menus make it impeccable for your events.
It offers a different setup for the reception, banquet, theatre, and cabaret-style seating. It has audio-visual, video-conferencing and IT equipment and tailor-made menus which make it impeccable for your events.
Ruby and Emerald Meeting Room
It can accommodate 70, 40, 60 and 24 guests in reception-, banquet-, theatre- and cabaret-style seating respectively. It has audio-visual, videoconferencing and IT equipment and tailor-made menus make it impeccable for your events.
Dubai Aquarium
Are you looking for unique birthday party venues in Dubai for your kid? Look no more than Dubai Aquarium and Underwater Zoo. The kids will have endless fun amid the 10-million liter tank with thousands of aquatic animals. As they offer a lot of activities to try with these creatures, the children will be most probably reluctant to return after the party.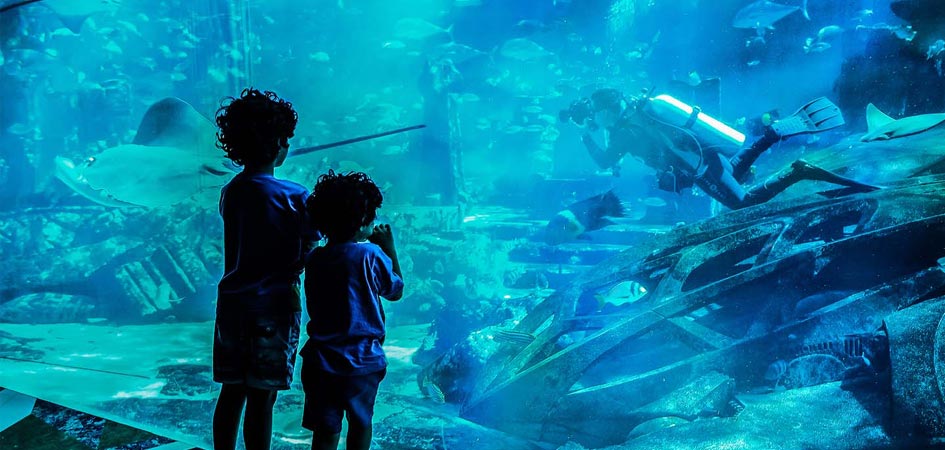 You can inform the authorities about the party, and they will arrange everything to gift a memorable day for the birthday boy/girl. For the first time in their life, they will celebrate their birthday with penguins, crabs, sharks, and jellyfish.
Following are the two popular choices for birthday parties at Dubai Aquarium:
Under the sea party
You will get themed invitation cards, party games, guided tours of the aquarium, decoration, fish feeding, complimentary gift for every child, and meals. The birthday kid and parents have free entry. Minimum 15 children must be there to book a party. You can also book cakes for an additional amount.
Prices: Sun-Wed AED 230 per child
Thu-Sat AED 250 per child
Aqua voyager party
This party includes themed invitation cards, party games, guided tours of aquarium and party area decoration. Meals are not included in the package, and a minimum of 15 children are needed for the party.
Prices: Sun-Wed AED 130 per child
Thu-Sat AED 150 per child
While hosting a party, choose the unique venue instead of the usual party halls in Dubai. Impress your guests with out-of-the-box party venues and celebrate the day to the fullest.