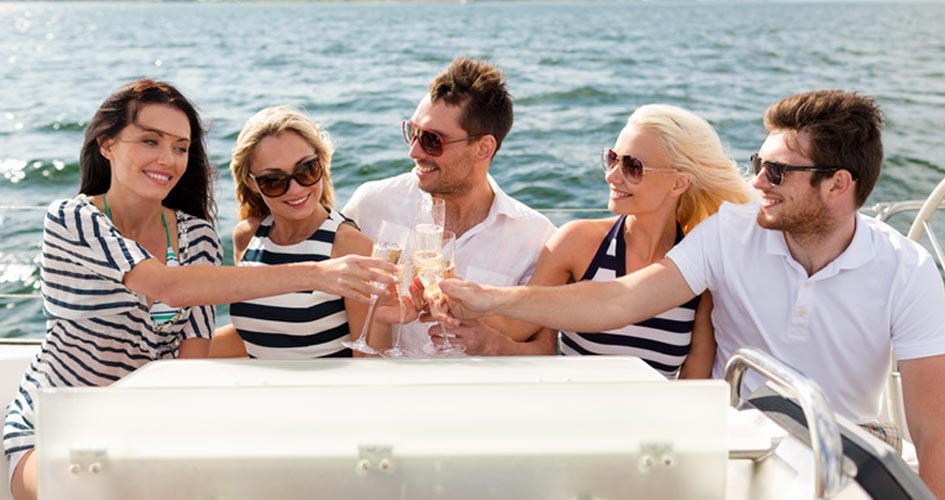 New ideas always add delight to parties. Invite your dearest friends and family for a truly enjoyable and unique party out in the sea. Gatherings in restaurants, bars, or hotels can get repetitive, so why not make it different this time around by taking your guests out to sea instead.
Whether you are having a function for a graduating brother or celebrating your ten years of marriage, a party at sea would be a great and unique way to do it. Celebrating company achievements or launching a new product can be more rewarding when doing it on a yacht cruise.
Mix and mingle with guests. Exchange stories or catch up on each other's lives with old friends and family. Dance to upbeat or slow music on board. Anything is possible with the exceptional services that Party Cruise Dubai offers.
While the sea already lends a one-of-a-kind ambiance, we go one step further by putting up colorful decorations on the yacht to add more oomph to your party cruise. Choose a theme, and we'll make it happen for you. Balloons, flowers, banners, and ribbons will fill the place up and give your guests that full-on party vibe.
There will be no other in your private celebration if it is on a yacht. When you get just a table in an expensive restaurant, where you get a whole yacht where there will be only your guests. Order a gourmet meal of your choice for the guests. The professional hostess is also available upon request.
If a visual feast is not yet good enough, we can offer a disc jockey (DJ) on board to take care of the sounds and music for your celebration. Let us know your favorites, and we'll create a fun playlist for you and your guests to groove and listen to. When it is the birthday of someone special, get a customized cake. Anything that you need to spice up the party can be arranged on a yacht.
With our affordable rates, we can definitely come up with a fabulous party that's within your budget. Let's team up and create only the best and most memorable party you and your guests could ever imagine amid the sea.