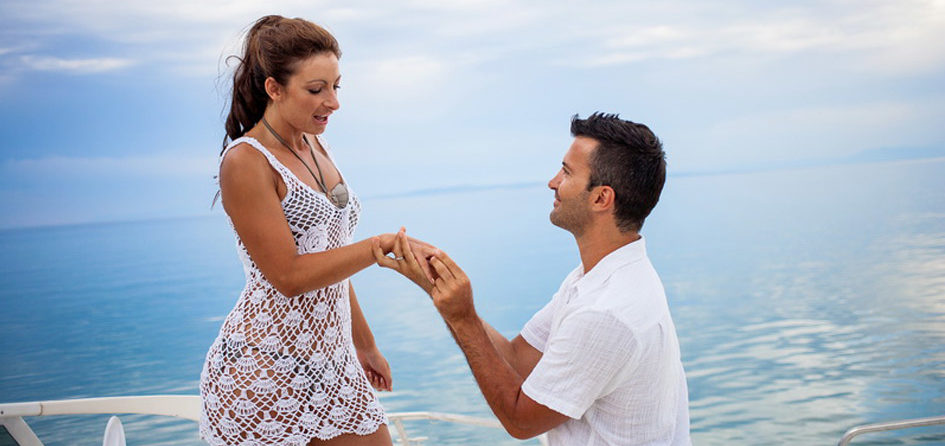 She has all the qualities you are looking for in a lifetime partner. She always brings a smile to your face with the little things that she does. You have decided to spend the rest of your life with her. So what are you waiting for?
Pop the question. Ask her to marry you. There is no better way to propose the love of your life than on a yacht. An exclusive yacht in Dubai can give you the perfect venue for your proposal. See the reasons to choose a yacht for proposing her:
Luxury: Yachts are synonymous to luxury and comfort. It is practically the best way to declare your everlasting love to your beloved. Replete with world-class amenities from the bedroom to the saloon to the sundeck, your loved one will surely enjoy your outing on an elegant yacht. It lets her know that you only want the best for her.
Privacy: Our captain and crew are more than willing and eager to get out of your way while you are on board the yacht. Focused on your safety and comfort, they will be at your call when you need them. But mostly, you have the yacht all to yourself, away from noisy and nosy crowds. Since a proposal is an intimate occasion, cruising out to the sea on a yacht offers you and your loved one the best privacy.
Romance: Nothing is more romantic than a cruise in the sparkling blue seas of Dubai. You can choose from a sunrise or sunset cruise where the dramatic and breathtaking colors of the sun add beauty into your proposal.
Go down on your knees and present her the ring. Do it when the sun peeks out of the horizon at dawn or as it washes the skies in golden splendor at sunset. For sure, it will take her breath away and get her to say "Yes!"
Special services: To add more love and romance into your cruise, yacht companies will gladly transform the yachts into a fantastic love boat just for you and your fiancée. At an additional rate, they can prepare a special dinner for two in the backdrop of flowers and balloon decorations. You can also rent a limousine or a Rolls Royce to pick up your lady and drop you both off after.
When you are in Dubai, there are endless ways before you to impress your beloved. Cruise on a luxury yacht to express your love at a fascinating setting.