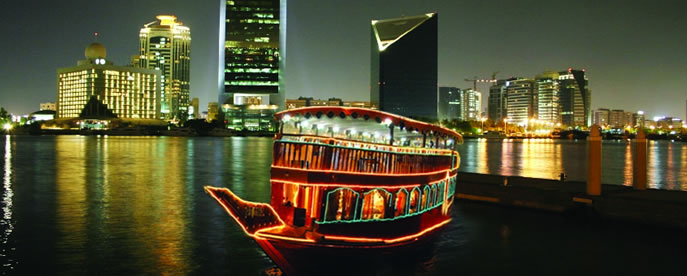 A Dhow cruise in Dubai is synonymous with romance, mystery and uniqueness. If you feel like you've tried every cruise under the sun, but have not heard of a Dhow cruise in Dubai, you should definitely give it a try. Dhow dinner cruise in Dubai is gaining popularity day by day. People make it mandatory to go for this authentic Dhow package during their tour to Dubai.
The facilities provided by Dhow cruise to visitors and residents are incredibly exceptional. Each part of the city is equally important and worth seeing. Due to the gaining popularity of Dhows, nowadays people book private Dhow to celebrate events such as birthday parties, marriage and wedding anniversary.
What are Dhows?
Dhows are wooden sailboats that came from the Middle East. Dubai has used these Arabic boats a long time back to and from Creek to transport significant things of stock, fruits and other imported goods to the emirate on the Arabian Peninsula, Pakistan, India and East Africa. There are different types of Dhows with different shapes and earlier, they were made of shells.
Dhow Dinner Cruise
Perhaps a star among the most beautiful ways to experience Dubai, a Dhow dinner cruise is splendid. The Dhow cruise offers a stunning view of the city from the Creek or Marina under the moonlit sky. There are many landmarks to see.
Travelers can also appreciate delicious buffet with Arabic music and standard Arabic coffee. Dhow is a renowned floating restaurant which provides a variety of dishes from Arabic, Asian and Continental cuisine.
Entertainment on board
Along with sightseeing and dinner, guests can enjoy entertainment shows when they are on board. The leisure programs include folk dance Tanoura, magic shows and live music. You will not be aware of time once you are aboard a Dhow. Experience entertainment and relaxation at its zenith.
How to Book a Dhow Cruise?
Booking a Dubai dinner cruise can be simple. You can book in advance through the internet or by contacting a reliable Dhow cruise package provider. Make your Dhow cruise reservation when you get to Dubai or even before leaving your country, and get ready for an unforgettable journey. It is better to do the reservation at the earliest as it is favorite tourist activity.
The best thing regarding a Dhow cruise in Dubai is that it provides you another opportunity to explore the magnificence of the region you are visiting from exquisite double deck Dhows.
Dhow cruises are very popular and you need to be strategic in your planning to ensure that you sail through best spots and do not miss the cruise at any cost.