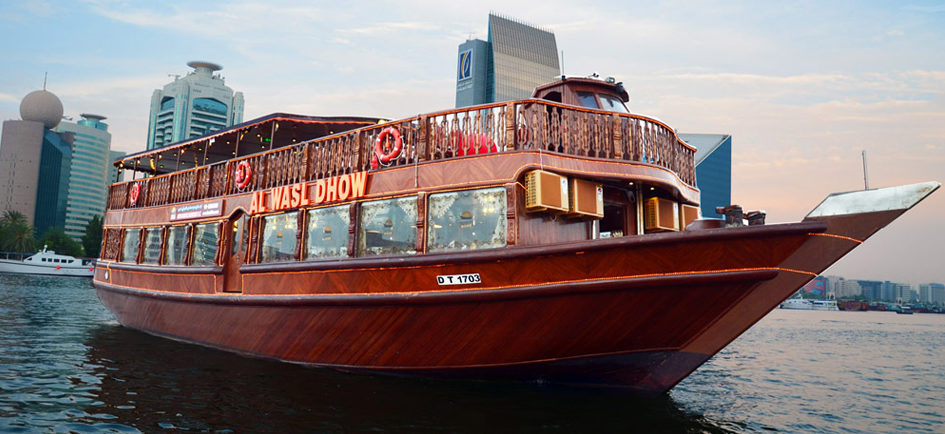 For most of the tourists around the globe, Dubai is all about the high rises and luxury life. It is mainly because they are unaware of the quaint side of the city. If you wish to see the least explored and known side of Dubai, head to Creek.
It is a natural waterway which has been flowing through the eventful history of the city. Creek was the hub of pearl diving and fishing which were the main source of income in the past days.
While everything in the city keeps changing every moment with new skyscrapers sprouting up, it has maintained some parts in the same way for all good reasons. From this, the city conveys the explicit idea that it never forgets where it came from.
Creek has made a clear distinction in two parts of Dubai which are like night and day. They are called old Dubai and new Dubai in which the former consisting of Deira and Bur Dubai.
You can cross Creek in an Abra for just 1 AED. These are the traditional water taxis ferrying people across Creek. But, if you like to do it in a luxurious way, go for a Dhow cruise. It is one of the most popular tourist activities in Dubai. Dhows are traditional wooden boats which were used for trade in the past. Now they are renovated and became the luxurious leisure boats.
Why Dhow Cruise Creek is worth experiencing
Dubai Creek has a great historic significance as it contributed to the city's economic prosperity. Deira and Bur Dubai which lie on either side of the creek have museums and souks like Heritage Village, Spice Souk and Gold Souk. The tourists can explore the past of Dubai and know its traditional life while cruising through Creek. It is also an opportunity to realize that this part of Dubai is not about luxury, but simplicity.
A typical Creek Dhow Cruise experience
Sailing on a Dhow gives you an essential break from your daily routine. The enticing sites, delicious food and artistic performances are all treats to your senses. Following are the three main benefits of choosing a Dhow cruise in Dubai.
Sightseeing
Dhow cruise Creek will cover the Old Dubai which includes Bur Dubai and Deira. You will have glimpses of Dubai National Bank and Dubai Chamber of Commerce which are some of the earliest skyscrapers in the city. The Rolex Twin Towers are another major attraction in Creek. You can see Abras passing by with residents as well as tourists.
Entertainment
As you cruise through Creek and admire the humble beginnings of Dubai, entertainment shows will start to unveil. The most popular entertainment on a Dhow is Tanoura dance. Many tourists choose a Dhow especially to see this magical performance. Tanoura dancer is a male who wears a colorful skirt and it is a kind of Sufi dance.
He will spin continuously by performing some tricks with his props. The amazing part of this twirling dance is that the dancer never feels dizzy regardless of the duration. Music is also played in the boats to ensure that you won't get bored even for a moment.
5-star dinner buffet
No expensive hotels in Dubai can surpass the dining experience offered by a Dhow. These boats provide 5-star dinner buffet with intercontinental dishes. You can savor every bite while the boat moves through some of the economic landmarks in the city. Live entertainment shows are also arranged to enhance the dining experience.
Choosing between Dhow Cruise Creek and Marina
Dhows in Dubai has two equally captivating yet different destinations which would sometimes give you a hard time in choosing the best. When you choose Creek, it is more about the history and simple aspect of Dubai. But Marina is the venue to feel the festive mood and city lifestyle that is entirely different from Creek. Dhow cruise Marina will pass through Jumeirah Beach Residences (JBR), Marina Walk, Marina Mall and Bluewaters Island.
While comparing the budget, Marina is expensive and Creek is affordable. However, apart from these, the entertainment shows and dinner buffet are of the same quality and standards. When it comes to choosing the best destination, it solely depends on your tastes and preferences.
Highlights of Dhow Cruise Creek Package
| | |
| --- | --- |
| Pick up & Drop Off Service | Only Dubai |
| Trip Duration | 2-hour Cruising in Creek |
| Starter | Welcome Drinks Offered Upon Arrival |
| Water | Free Unlimited Packaged Water |
| Refreshment | Soft Drinks, Juices, free unlimited Arabic Tea & Coffee Available On Board |
| Buffet Dinner | Lavish International Buffet Dinner, BBQ With Veg & Non-Veg Dishes |
| Service & Staff | Unmatched services through professionally trained Staff |
| Tanoura Dance | The Story Telling Art With Professional Tanoura Dance |
| Background Music | Latest Background Music (English, Arabic & Hindi) |
| Lower Deck | Air-Conditioned for Luxurious Experience |
| Upper Deck | Open-Air for A Romantic Setting |
| Photographer | Professional Photographer (Optional) |
| Washroom | Separate Facilities For Men And Women Onboard |