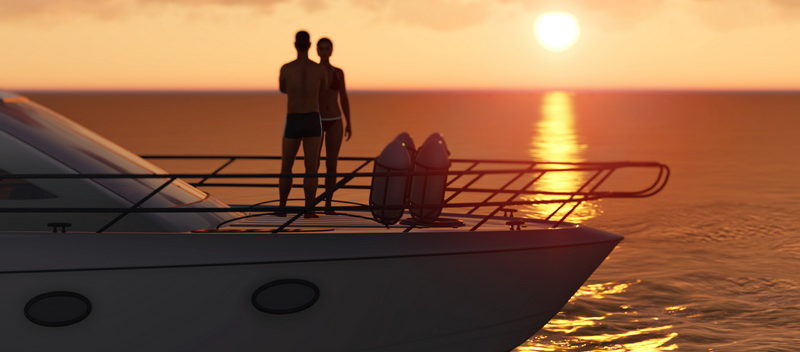 There is a myriad of things you can do in the city of Dubai, but nothing beats the experience of watching the orange sky from a cruise. Dubai's coast is beautiful during the day, but it usually turns dramatic and more romantic as the sun is sinking. Charter a yacht and admire the sunset from the sea.
Apart from the dazzling views on the coast, the soothing sounds of the waves from the sea can make an unforgettable cruise experience. Whether you're there for a honeymoon or want to share the evening with your family or loved one, going on a cruise can be a perfect idea.
Sit back, relax, and watch the sun descending as the yacht gracefully cruises across the coastline. You can cruise from the Dubai Marina, out of the lagoon as you enjoy the breathtaking view of the majestic Burj Al Arab or go further around Palm Jumeirah. Behold the beauty of the sun sinking into the horizon.
For hours, you can enjoy the luxury ride along the coast of Dubai. The cruise allows you to surrender to the charm of nature and enjoy a once in a lifetime experience. Most of Dubai's luxury yachts:
Come in different sizes to suit the needs of individual holidaymakers

Offer up to two hours of sunset cruise which provides a worthwhile experience

Offer free pickups and drop-offs anywhere in Dubai
Are Dubai Sunset Cruises Expensive?
Majority of Dubai cruises vary in size, design, and the exclusive services they offer. While you might pay extra money to board a luxury cruise to take you through the fascinating Dubai coastline, the experience you'll enjoy is unmatchable.
As you know, you can't get exceptional things for less. A typical world-class yacht comes with experienced and friendly crew, up to two hours of sunset cruise and full insurance for the yacht, guests, and crew on board. In addition to that, Dubai cruises offer:
Light complimentary refreshments on board

On board home theater and sound system for entertainment

An opportunity to take incredible photos of the sunset
Why you should go for a sunset cruise
There can be no better activity in Dubai than immersing yourself into the beauty of the sinking sun in a fantastic coastline. It offers the perfect moments to bond with your loved one while also allowing you to have as much fun on board as possible.
Most of Dubai cruises are customized and provide an ideal platform to unwind and refresh, an exclusive evening tour, and great services. Celebrate the most exciting holiday on a sunset cruise.