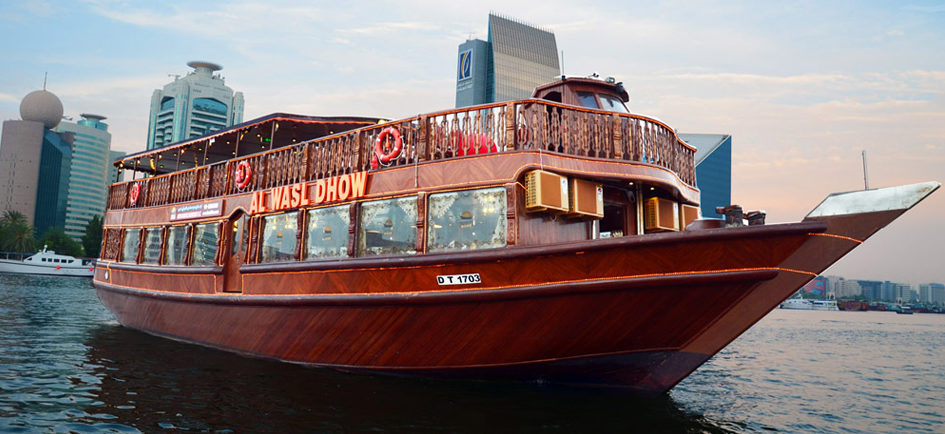 If you are planning a trip to the bustling city of Dubai, don't forget to buy your tickets for enjoying a Dhow cruise dinner. No trip to Dubai would be excellent without a romantic dinner. This trip is also a great way to celebrate a family reunion, or best friends' evening out. Consider a Dhow dinner cruise to celebrate a birthday, anniversary, or marriage.
Besides, tickets to a Dhow cruise would make amazing gifts to your mother and father or other loved ones. Whatever you need to celebrate, do it aboard a fantastic Dhow in Dubai. It is the best way to give a unique touch to the celebration.
The twilight and the beautiful views make Dhow cruise one-of-a-kind. The professional crew will welcome its guests with a refreshing beverage, delightful music, and delicious food. You will be fully satisfied with the delectable mix of continental, Arabic, and Asian cuisine served buffet style.
After you've enjoyed your meal, take a walk around the wooden Dhow, and admire the views. The sight of the Marina is breathtaking. Gaze over the calm water and listen to the waves. Look at the marvelous architecture that contributes to the Dubai skyline. These are amazing views and one of many reasons that you must book this cruise the next time you are in Dubai.
A Dhow cruise dinner in Dubai starts at your hotel room where a car will pick you up either for a delightful night ride. The vehicle will also drop you when the cruise is over. So don't worry about transportation while on your vacation.
For two hours you'll enjoy the relaxing music in different languages, including Hindi, Arabic, and English music. Some dance performances and other leisure programs will make a colorful night.
Simply relax and forget all the stress. You may choose to cool off in the air-conditioned lower deck or move to the upper deck and breathe in the fresh air. Whether you participate in this cruise trip alone, with your one true love, or with a group of friends and family, it is sure to be an unforgettable experience.