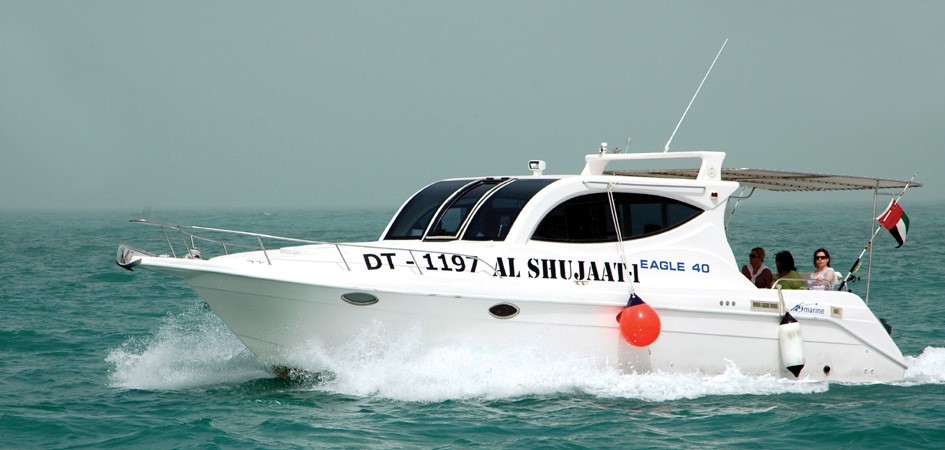 When your heart craves for a way to unwind yourselves, don't wait or get confused by several exceptional options in Dubai. If you wish for a relaxing day, charter a yacht. Cruising in a yacht is an experience which should be tried at least once in a lifetime.
For a more intimate and relaxed outing in the deep seas of Dubai, hire a luxury yacht in Dubai that is perfect for small groups. Suitable for both cruising and fishing, our 37-foot yacht, Al Shujaat 1, can take up to 10 guests into a wonderful day out in the sparkling seas of Dubai around the incredible Palm Jumeirah island and past glorious landmarks like Burj Al Arab and Atlantis, the Palm.
You can laze on the sundeck or sitting area for some sightseeing or relax inside the fully air-conditioned yacht with its first-class home theater and music system. It also offers the convenience of a cozy bedroom, a lounge area, kitchen, and toilet.
Al Shujaat 1 can be a sporty fun boat or a luxurious yacht, depending on your needs. Smaller boats are every inch as seaworthy as larger vessels. Its hulls are strong and can withstand the pounding of the waves as it effortlessly slices through the waters with its slim design and body.
The comfy interior provides a sense of comfort as well as hospitality for you and your guests, making conversations easier on this petite ride. It also brings you closer and closer to the water where you can feel the refreshing splash on your face and feel the sea breeze on your hair.
Manned by an expert captain and crew, and powered with twin 250-hp 4-stroke engines, Al Shujaat 1 is the best for cruising or deep sea fishing in Dubai. It is eco-friendly as it uses less engine power and yet offers enough space to accommodate small families or groups of friends on a weekend trip.  
Try fishing with your friends and cook them in the kitchen. Deep-sea fishing is an exhilarating activity included in the yacht trips. Cruise in a yacht and rejuvenate yourself.