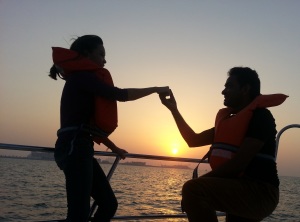 Love is a many splendored thing. All you need is love. Celebrate love the way songs and movies do with a romantic yacht rental in Dubai. Across the tranquil waters with the gentle sea breeze and the refreshing ocean waves all around you, you get all the loving tenderness that will surely melt the heart of your sweetheart.
Onboard a beautiful and exclusive yacht, you can show your beloved how much you care for them. With world-class amenities onboard, professional captain and crew, and stunning views all around, a yacht charter Dubai is simply the perfect setting for love.
Tell her you love her: You have found the person who sends butterflies fluttering in your stomach, and you need to tell him or her how you feel. Rent a yacht in Dubai, and take his or her breath away with the mesmerizing views all around as well as with your declaration of love.
Say thank you: Your husband works to feed the family. Your wife takes care of the kids all day. Your fiancée sends you food. Your boyfriend drives you home safe. Tell them you appreciate them by taking them on a relaxing yacht rental Dubai. They will love the gesture and love you even more.
Propose to spend forever: Hire a yacht in Dubai, take a cruise at sunset, and pop the question just as the beautiful Arabian sun sinks in the horizon and paints the sky in dramatic hues of purple and gold. It will surely melt her heart, and give you her sweetest "yes."
Celebrate amazing years together: Marriage is no easy achievement, so on your anniversary, let your husband or wife know you are with them till the end with a loving cruise across the waters of Dubai.
Complete the romantic atmosphere with fine dining catering, fantastic decorations, and romantic music onboard. On a romantic yacht cruise in Dubai, you get all the privacy and luxury you need with the love of your life.