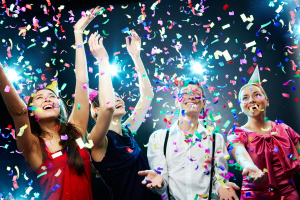 Christmas in Dubai is just as big as anywhere else in the world. No other occasion fills the air with such joyful vibe than this yuletide celebration. Everywhere, it is simply a season of food, gifts, decorations, shopping, and so many activities. Here are some ideas on how you can enjoy your Christmas celebration in Dubai.
Christmas festivals and markets. Enjoy the Christmas setting or buy as many gifts as you can at the festivals and markets. Snow, Santa Claus, play areas, fun entertainment, stall after stall of goodies — the fun is simply endless. The annual Dubai Christmas Festival featured delightful treats for young and old alike. Ongoing until the last week of December are the bustling Souk Festive Market at Souk Madinat in Jumeirah and Winterland Festive Village in Atlantis to mention a few.
Snow in Dubai. Head to Ski Dubai for a special winter wonderland experience with Disney. Slide down mountains of snow, meet and greet Santa, build a snowman, or sing along with Frozen's Olaf in all the festive merriment in this sensational Christmas in Dubai treat.
Brunch, dinner or yacht party. Christmas is not complete without food. Celebrate the occasion with your dearest family or friends with brunches at different food outlets in the city. Different kinds of sumptuous Christmas dinners are also prepared by hotels and restaurants. For a unique Christmas celebration in Dubai, rent a yacht and arrange for a fun holiday party onboard with food and music as you cruise around the Palm Jumeirah.
Spread the Christmas cheer. This is the season for sharing and loving. Give gifts or do a generous act. You and your friends could distribute meals or goodies at labor camps or orphanages. It is a great way of showing your thanks for the blessings you have received. Truly, this is the spirit of true Christmas in Dubai.
Decorate your house. Put up those red and green decorations, hang the stockings, and deck the halls with lights. Buy a real fresh Christmas tree from Fresh Flowers in Satwa or transform your backyard into a winter wonderland with artificial snow from Desert Snow.
Sing Christmas carols. Gather everyone and learn some Christmas or holiday tunes. You can just have a Christmas karaoke at home or go from door to door caroling or visit homes for the elderly and sing heartwarming Christmas medleys like "Rudolph, the Red-Nosed Reindeer," "Silver Bells," "Winter Wonderland," "Santa Claus is Coming to Town," and so much more.
Watch Christmas movies. If you prefer a simply and low-key celebration, you can stay at home and dig out some Christmas movies while enjoying some hot chocolate by yourself or with your loved one. You can also check any Christmas films screening at the cinemas to enjoy the season.
What other ideas do you have in mind for a truly merry Christmas celebration in Dubai?