"Luxury must be comfortable, otherwise it is not luxury."
So says international luxury fas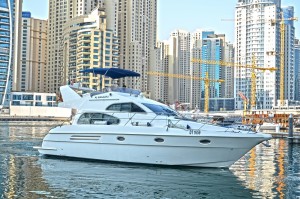 hion icon Coco Chanel. This does not only go for fashion and fragrance. It goes for all things luxurious. On an exclusive yacht charter Dubai, you can indulge in all the luxuries of cruising in the stunning blue seas without sacrificing comfort and convenience.
The latest addition to our growing fleet of sleek white yachts, 42-foot Al Shujaat 2 radiates elegance in a petite package. This stunner is equipped with all the essential amenities of a yacht charter and is perfect for small group outings of up to 14 people.
Its clean and cozy master and twin bedrooms are good for truly relaxing naps while the boat gently rocks along with the sea waves. Its lounge with state-of-the-art home theater and music system promises endless movie and music fun indoors. And if you prefer to cook some of your meals onboard, a kitchen comes complete with the appliances you need.
Catch some sea and sand when you laze around in the front end sundeck. Comfortably sit or lie down on soft cushions as you gaze at the breathtaking views before you. Marvel at the splendor of Dubai Marina's towering skyscrapers. Delight in the beauty of Burj Al Arab with its distinctive sailboat design. Be awed by the Lost City vibe and a touch of Arabian elegance of Atlantis The Palm. All these you will see as our 42-foot yacht cruises around the Palm Jumeirah.
For fishing enthusiasts, this luxurious cruiser is also a perfect companion in the deep sea. It can zoom across the waters at 32 knots powered by Twin Cummins 370-horsepower engines. It will take you to the deep seas in record time where the fishes are teeming rich for you to enjoy.
Al Shujaat 2 is an Ambassador 42 yacht built by Overmarine in 2005. It is manned by our expert captain and two yacht crew members.
For a minimum of two hours, you can rent this yacht for a cruise around Palm Jumeirah. For at least four hours, you can already enjoy a fishing adventure. Book this petite-but-packed beauty today!