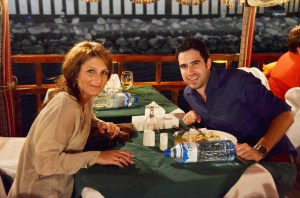 Dubai has been renowned as a premier wedding tourism destination with the high number of honeymooners and long-time lovers coming to this famed Arabian paradise to spend some romantic days and nights together. Whether you are newlyweds or old couples, the myriad offerings in Dubai gives you and your beloved the best bonding and romantic time you could ever have in one place.
Apart from the wide selection of five-star hotels and resorts, Dubai has yacht charters that offer sunset cruises for a dreamy ride into the Persian Gulf amidst the fiery hues of pinks and purples painting the horizon. There are also enchanting desert safaris that take you and your loved one to a unique adventure in the charming deserts, riding camels across the dunes, and lovingly dining in Bedouin-style under the starlit desert sky.
If your idea of a romance is a trip down memory lane, then a sentimental dhow cruise can take you sailing and dining along the scenic districts of Dubai on a bright moonlit night.
A dhow is a traditional Arabic sailing boat made of wood. In the old days, it was used by fishermen, pearl divers, and seafarers to sail the abundant waters of the gulf. Today, the charming dhows are generally used for leisure purposes. A dhow cruise dinner take couples back in time with its quaint yet sophisticated interiors as it cruises down Dubai Creek, a treasured heritage site of the emirate, or Dubai Marina, the vibrant cosmopolitan neighborhood in New Dubai.
The bright lights and striking colors decorating the dhow lend to its captivating vibe. Onboard, lovebirds are treated to the most sumptuous buffet dinner of Continental, Arabic, and Asian flare while soothing mood music wafts all around the decks to set the romantic tone. Entertainment that ranges from exciting magic and puppet shows to mesmerizing Tanoura dances make the evening even more memorable both for you and your sweetheart.
On a dhow cruise, it will truly be one romantic night to remember.