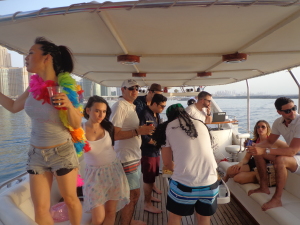 The cool winds of November tell us that the holiday season is fast approaching. Don't be caught in the mad last-minute rush. Make your plans now, and have the most unique holiday party with a splendid yacht charter Dubai. A party cruise is guaranteed to amaze your guest and give you endless holiday fun while sailing the seas. Haven't done a yacht party before? We have answers to some of the most frequently asked questions about holiday party cruises in Dubai.
Are rates for yacht rentals and hotel conference rooms similar?
Rates for yacht rentals are slightly higher than those in hotels. However, a party on a yacht is better than the usual ones held in hotels, restaurants or clubs. Imagine the fresh sea breeze, the soothing waves, the stunning Dubai skyline view, and the overall lively vibe of a party cruise. It's extraordinary.
What are the inclusions in a party cruise?
An exciting party cruise includes a leisure trip around the Palm Jumeirah on a luxury yacht, complimentary refreshments, complimentary fishing equipment, expert captain and crew, and pickup and drop-off in Dubai and Sharjah.
What should I do if I want food served onboard during the party?
For an additional cost, a 5-star gourmet dinner can be prepared and served onboard your joyous yacht charter Dubai. You can also bring your own food at no extra cost. You can also request for custom-made cake, party decorations, disc jockey onboard, and luxury transfers to add more fun to your party.
What should my guests wear to a yacht charter party?
You and your guests can dress as per the occasion. Since the winter months are going to be colder, it is best to bring extra shawls or jackets to battle the chill while sailing the seas.
What if the weather is not favorable during my party?
Depending on Coast Guard regulations, foul weather may cause cancellation of your party cruise. You can either get a refund or reschedule your yacht charter at a later date.
Is it safe to have a holiday party on a yacht?
Yes. Yachts are regularly maintained to be seaworthy. They are also equipped with safety equipment such as lifejackets, first aid kits, and modern radio and navigation system. The captain and crew are also trained and dedicated to ensure everyone's safety on board.