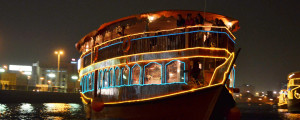 A charming reminder of the glorious Emirati past, a dhow dinner cruise along historic Dubai Creek is one of the tourist excursions that you should not miss. Fascinating and truly relaxing, you and your loved ones can enjoy a one-of-a-kind evening spent within the classic interiors of the dhow with the beautiful seaside view all around and the sumptuous dinner banquet spread for everyone's delight.
An elegant and timeless dhow cruise Dubai Creek is unlike anything else. The setting itself is already a treat for the senses. The polished teak wooden floors shine as radiantly as the bright lights and colorful decorations of the dhow. Characteristic drapes of red and white adorn the ceilings. Expertly handcrafted artworks embellish the walls. And a varied selection of Arabic, Indian, Asian, and International music fills the air as the dhow starts to glide down the creek.
The buffet feast is sure to delight every tummy with its extensive and delectable mix of Arabic, Indian and Continental cuisine. With refreshing soft drinks, juices, and water available, you are guaranteed a culinary treat that rivals those of five star hotels. As dinner winds down, a plethora of amusement and entertainment options unfolds for everyone to enjoy. Be mesmerized by exotic dance performances like the Belly Dance and Tanoura Dance shows, while an unbelievable magic show by a resident illusionist is sure to capture your imagination.
Dhows were originally used as a commercial vessel by fisherman, pearl divers, and traders back in the early days. Made of sturdy wood or metal, these boats not only sail the creek route to trade its merchandise, it also travels to nearby countries like India and Africa to trade goods and products with there. Today, the dhows are popular mainly because of their entertainment and cultural value. They have now become a prime tourist attraction that is truly reflective of a glorious past.
All these unique and fantastic offerings come together on a dhow cruise dinner to guarantee a comforting and memorable evening for you and your loved ones.